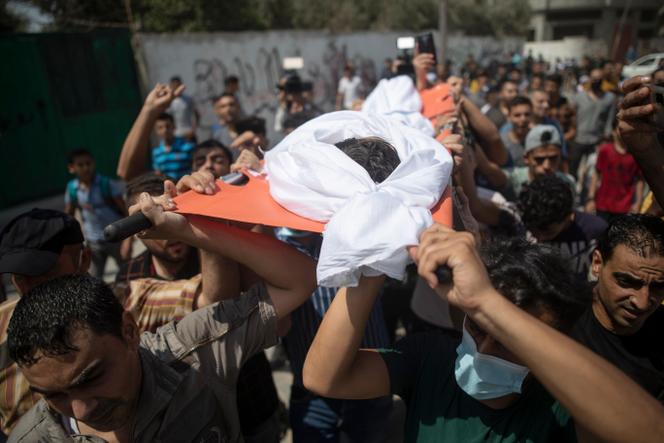 The Palestinian Ministry of Health said on Saturday (August 28) that a Palestinian youth was wounded in an Israeli army shooting in Gaza last week. Omar Hassan Abu al-Nile, 12, "Died of his wounds", The ministry said in a statement.
He was attacked on Saturday, August 21st Unrest on the sidelines of the demonstration Wafa, the official Palestinian news agency, explained that near the partition barrier between the Gaza Strip and the Hebrew state.
About 100 people attended the boy's funeral in the afternoon in the Al-Tofa neighborhood in eastern Gaza City, a French-Press correspondent reported.
In the evening, clashes erupted between the Israeli army and the Palestinians, responding to calls from several Kazan factions, especially Israel, to protest the nearly fifteen-year-old siege against the Palestinian territories. The army used tear gas and grenades as protesters burned tires.
Eleven Palestinians were injured in the clashes on Saturday evening, including three live ammunition, the Kazan Health Ministry said. For their part, Israeli firefighters said fire balloons fired from Gaza had started a wildfire in Israel.
Sunday morning, IDF. In retaliation for Hamas launching flaming balloons in the area [israélien] And the violent riots that took place [la veille] ⁇, According to a report, carried out airstrikes in the Gaza Strip. The attacks targeted the Hamas military base used for weapons production and training and the entrance to the terrorist tunnel adjacent to Jabalia., The military said in a statement.
Israeli attacks
About 40 people were injured in an Israeli fire last Saturday, including Qamar officials, including Omar Hassan Abu al-Nail, a 32-year-old man who died on Wednesday. A member of the Israeli security forces who was killed in the shooting is still in critical condition.
The Hebrew government then led Air strikes Against "Four arms production and storage sites" Hamas, the Islamic movement in power in Gaza. No other casualties were reported, which took place overnight from Monday to Tuesday, in retaliation for the firing of flaming balloons on the Israeli side. New clashes, less violence, took place on the border with Gaza and Israel on Wednesday.