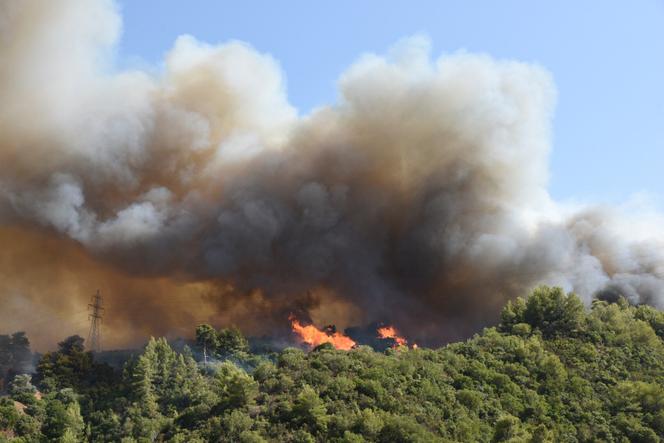 Greek firefighters announced Saturday (July 31) that four villages northwest of the Beloponnese had been evacuated due to a large wildfire caused by intense heat.
With the heat drying up, the Greek forests are plagued by fires every summer, which are triggered by strong winds that constantly blow over the country. Firefighters said 95 firefighters, 33 trucks, four water bombs and a helicopter were mobilized in the wake of the new wildfire in the Geria region.
According to a provisional estimate by the Greek Civil Defense, a dozen houses were burned and five people were injured. Due to respiratory problems, they were taken to hospitals in the area.
Authorities sent warning messages on cell phones to warn the villages of Seria, Kamares, Achaiaz and Labri to be evacuated. By the end of Saturday afternoon, the coastal resort of Logos had also been evacuated and the fire had spread towards the island. Both locals and tourists were spotted by the port police, who took them to the Igio port, a few kilometers from the village.
Hospitals are on alert
In the hospitals of Patras and Igio, the Coast Guard has been placed on alert, with the possibility of assisting those who have been drinking poison from the smoke. The Greek news agency ANA clarified that the highway crossing the affected area was closed to traffic, the Rion-Andrion Bridge, which connects Beloponnese with the Greek mainland.
Greece has been experiencing a new heat wave since Friday, with temperatures hovering between 42 and 44 degrees, weather services said. A few days ago, a fire broke out on Bentley Mountain near Athens.
As of July 2018, 102 people had been killed in the coastal city of Matthias near Athens. This is the worst death toll from a fire in the country.