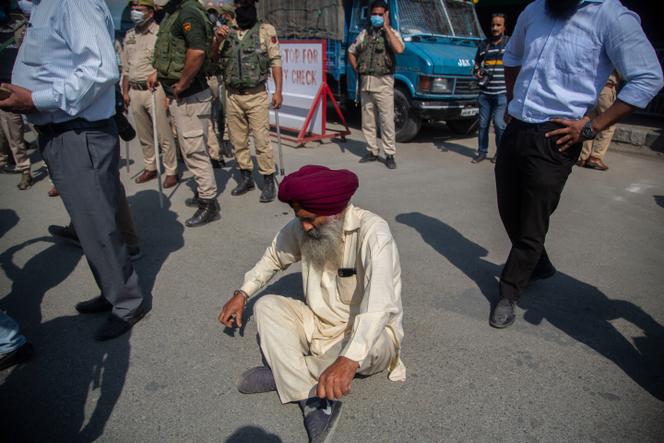 The double murder took place at a public school ground on the outskirts of Srinagar, the largest city in Kashmir. The director of the establishment, a Sikh, a teacher and a Hindu were shot very close by on Thursday, October 7, by several revolver bullets. According to witnesses, the attackers removed the Muslims seeking the identities of the individuals present. None of the students. Two days ago, a pharmacist from Srinagar, known and admired, was killed, as well as a street vendor from Bihar and the leader of a taxi association in Bandipora. On October 3, two other civilians were shot dead by terrorists, who used the same method each time.
In all, seven people were killed in six days in Kashmir, the only Muslim-majority area in India, where separatist groups have been waging a bloody struggle against the Delhi authorities since 1989 demanding independence or joining the border with Pakistan. The conflict in Kashmir has claimed nearly 60,000 lives in two decades.
The targeted killings were allegedly carried out by the Resistance Front on August 5, 2019, after the brutal decision of Narendra Modi to revoke the semi-autonomy enjoyed by Kashmir. Police suspect that he is associated with the Pakistan-based terrorist organization Lashkar-e-Taiba (LED). India has feared for weeks that the return of the Taliban to Afghanistan will lead to a resurgence of terrorist activities in Kashmir.
Targeted pundits
In a statement, the opposition threatens to take other action. "It should be clear that foreigners, homeowners, the poor and fellow workers, regardless of religion, will not be saved." Was it written.
In fact, the organization has targeted minorities, Sikhs and Hindus, although the victims include Muslims. The pharmacist is a symbol, a pundit, a Hindu from Kashmir who did not leave his area even when the terrorist wave in 1990 terrorized 200,000 to 300,000 Hindus. Narendra Modi's government has been encouraging their return since 2010 with the promise of employment and housing. The degraded teacher is one of them.
According to police figures, 28 civilians have been killed since the beginning of the year, most of them Muslims. All opposition parties have condemned these heinous acts, but they also condemn the Modi government's strategy of social tension and its inability to control terrorism. The revolution of August 2019 did not help. The failure to deploy thousands of additional security forces in the already heavily militarized area, the complete closure of the valley for several months, the freezing of communications and the Internet, the arbitrary arrests of hundreds of people, including the anti-authorities movement and assembly restrictions, violated Modi's promises to restore security, but provoked growing anger among the people.
This article contains 33.11% of what you read. The rest is for subscribers only.