Solar Opposites is a Hulu original animated sitcom created by Justin Roiland and Mike McMahan. Originally conceived for Fox Broadcasting Company, the project was shelved before being acquired by Hulu and given a two-season order of eight episodes each. The first season will be available on May 8, 2020.
The second season premiered on March 26, 2021, followed by a holiday special on November 22, 2021. The series was renewed for a third season in June 2020, with 11 episodes premiering on July 13, 2022, and a Halloween special premiering on October 3, 2022.  The series was renewed for a fourth season of 12 episodes in June 2021.
The series was renewed for a fifth season in October 2022. 
Solar Opposites Season 4 Release Date Prediction
Season 4 of Solar Opposites has yet to be given an official release date.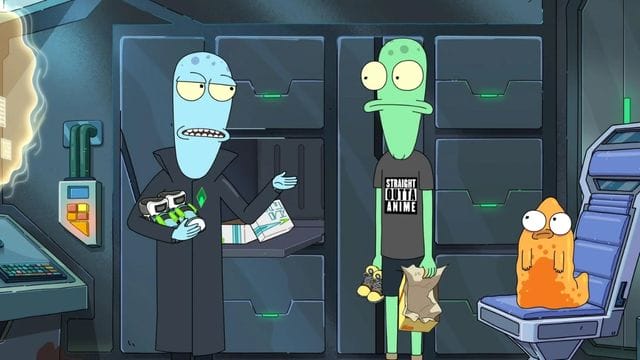 Though Mike McMahan confirmed that the script is nearly finished, he added that "it takes us a year to animate."
With this timeline and the previous release pattern in mind, we can expect to see Solar Opposites season 4 sometime in the Summer of 2023.
READ MORE:-
Rings Of Power Season 2: Updates on the Release Date, the Cast, and Other News!
1000 Lb Sisters Season 4: 2022 | Updates on the Release Date, the Cast, and Other News!
Solar Opposites Season 4 Plot Speculation
We don't know what the plot of Solar Opposites season 4 will be, and it's difficult to predict. While the series flirted with serialization in season 3, the majority of the episodes have been one-off sci-fi adventures.
Solar Opposites season 4 will pick up where the third series left off, with Korvo and Terry attempting to commit to a mundane human life after realizing the Pupa was absorbing their toxic behavior.
Solar Opposites Season 4 Cast
All of the Solar Opposites voice cast is expected to return, with Roiland, Thomas Middleditch, Sean Giambrone, and Mary Mack already confirming in an interview with Collider that they've recorded season 4.
Who's in the Solar Opposites season 4 cast? 
Justin Roiland as Korvo
Thomas Middleditch as Terry
Sean Giambrone as Yumyulack
Mary Mack as Jesse
Sagan McMahan as the Pupa
Christina Hendricks as Cherie
Tiffany Haddish as Aisha
Kari Wahlgren as Mrs Frankie
Rob Schrab as Principal Cooke
Where to Watch Previous Seasons of Solar Opposites
While some may compare the wait for Season 4 to waiting for a Pupa to begin terraforming a planet, there are three seasons and a Christmas special available to tide fans of the adult-oriented cartoon over until the next chapter arrives.
READ MORE:-Pittsburgh Penguins Open Up the 17th Season With Crosby/Malkin/Letang Together
Fortunately, no one has to travel to the far reaches of the galaxy to do so. Fans looking to relive all of the show's wickedly funny moments, or anyone looking to check out the series for the first time, should be aware that there are a few options available.
Solar Opposites Season 4 Trailer