These non-alcoholic (NA) cocktails are flavorful without any alcohol, making them ideal for brunch, gatherings, and happy hour at any time of the day.
We want to encourage you to explore the world of non-alcoholic mixed beverages because they can be just as complicated, delectable, and exciting as their alcoholic counterparts, regardless of whether you want to call them mocktails (we don't, for the record), zero-proof, or spirit-free drinks.
 While some of the recipes we enjoy the most require a few extra steps, like making syrup or a tincture, you'll be surprised by how easily many can be used again to add extra flavour to everything from ice cream to coffee.
The traditional principles used to craft alcoholic mixed drinks – finding balance in flavour, picking thoughtful garnishes, glassware, and ice – apply to NA cocktails as well.
Continue reading for some of our favourite non-alcoholic drinks, such as the Cherry Red, which is reminiscent of cherry Coke, and the caffeinated and citrus-forward Coffee Cooler. Long after Dry January is over, you'll want to continue making these beverages.
Green Refresher
The herbal, earthy flavours of Japanese sencha tea blend flawlessly with the sweet, acidic flavour of apple juice in Sebastian Rea burn's Green Refresher, one of our favourite non-alcoholic creations.
Coffee Cooler
You want an Espresso Martini but without the alcohol. The Coffee Cooler provides extra sweetness from freshly squeezed orange juice to satisfy any caffeine craving.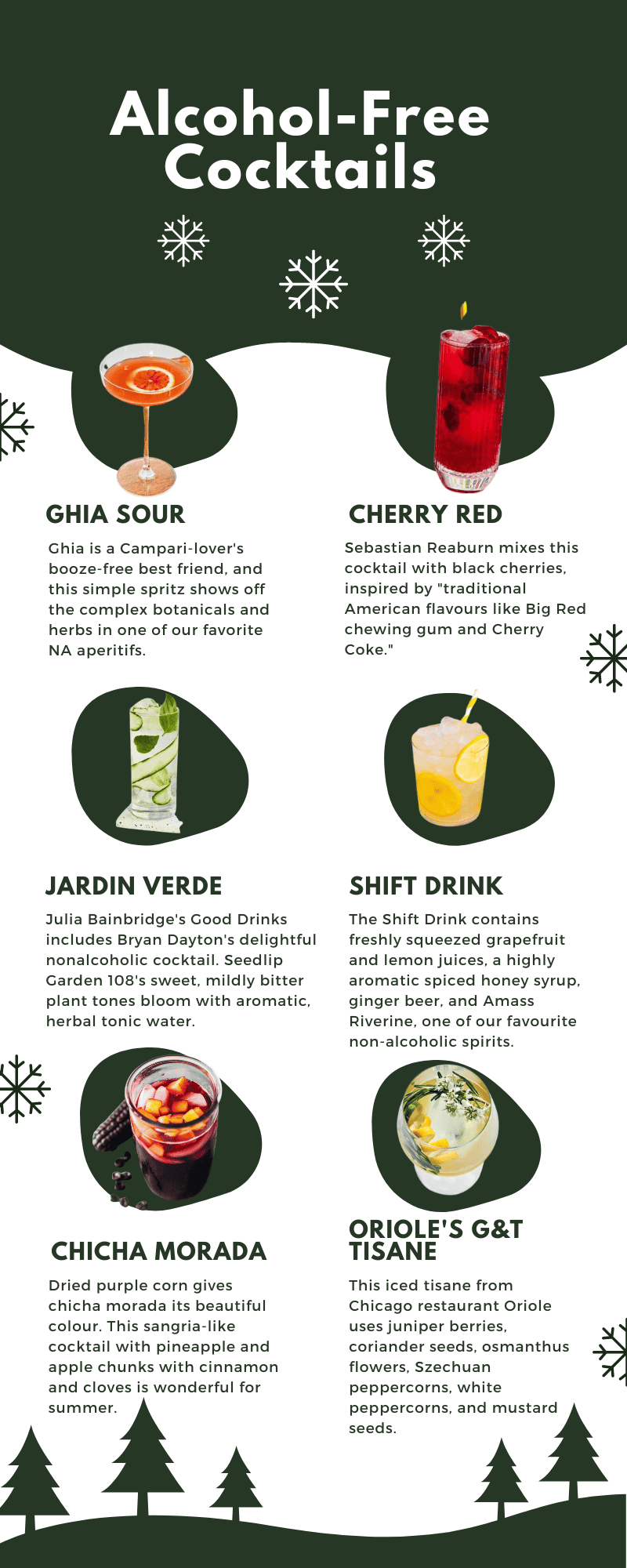 Read more:-
Mango Hibiscus Cooler
With this make-ahead mixer flavoured with sweet mango nectar and sour-tart hibiscus syrup, visitors can choose their own journey. It tastes extremely well on the rocks with sparkling water.
Psychedelic Backyard
Verjus gives this non-alcoholic cocktail by mixologist and author John deBary a nice acidic kick.
Sangrita
Sangrita is the typical chaser for tequila shots. This recipe originates from Arunas Bruzas, the bartender at Chicago's Adobo Grill.
Baby Marmalade
In this cocktail, John DeBary uses both ginger juice and ginger syrup. "Ginger simulates the original's delightful burn from the vodka," he says.