Donald Trump is "impressed" by Vladimir Putin's ability to kill anyone he wants, according to his former White House press secretary Stephanie Grisham.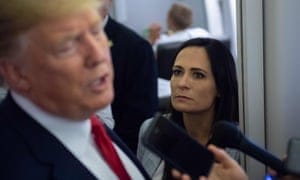 at Interview With The View on Tuesday, Grisham discussed the former US president's relationship with the Russian president, saying, "I think [Trump] fear [Putin]. I think he was afraid of him. I think the guy scared him. Because Putin is a scary guy, just frankly, I think he was afraid of him."
She went on to add, "I also think he liked him very much. I think he wanted to be able to kill everyone who spoke against him. So I think it was a lot of that. In my experience with him, I like tyrants, I like people who can kill anyone, including the press ".
Since the Russian invasion of Ukraine, which has yielded In more than 1,300 civilian casualties, including 474 killed and 861 injured, Trump highly praised Putin for his actions, calling him a "genius."
at Interview Last month on a conservative radio show, Trump boasted to Putin, saying, "I went yesterday and there was a TV screen, and I said, 'This is a genius'." Putin announces a large percentage of… Ukraine. Putin declares it an independent country. Oh that's cool. So Putin now says, "It's independent," a large part of Ukraine. I said: How smart is this? And he will enter to be one of the peacekeepers. This is the most powerful force of peace. We can use that on our southern border."
Trump continued, "There were more Army tanks than ever. They'll keep the peace just fine. No, but think about it. That's a very smart guy, and I know him very well. Very well."
Both criticized Trump's comments Republicans He serves on the House Select Committee to investigate the January 6 riots, who are among the few Republicans to have criticized the former president. Liz Cheney tweeted that Trump's statement "helps our enemies. Trump's interests do not appear to align with those of the United States of America."