This light, sweet meringue piecrust is dusted with white chocolate, which adds a sweet flavour and creates a barrier that keeps the crust crisp after adding the filling.
Marshmallowy Italian meringue is baked until firm, dry, and crisp before being dusted with melted white chocolate, which adds delicate sweetness while also forming a barrier that prevents the crust from becoming soggy once the filling is added.
Because of the extra-thick, pillowy crust, even though the crust is baked in a deep-dish pie plate, it contains the same amount of filling as a conventional pie plate. Pipe remaining meringue into little kisses for a crisp garnish on completed pies.
While the crust can be made up to 2 days ahead of time, add the filling and chill just until firm before serving to avoid the crust softening too much in the dampness of the refrigerator.
If your oven can only go as low as 250°F, bake the piecrust for 1 hour, removing meringue kisses after 35 to 40 minutes when dry and no longer sticky. Turn off the oven and leave the piecrust to cool entirely in it for at least 4 hours or up to 24 hours.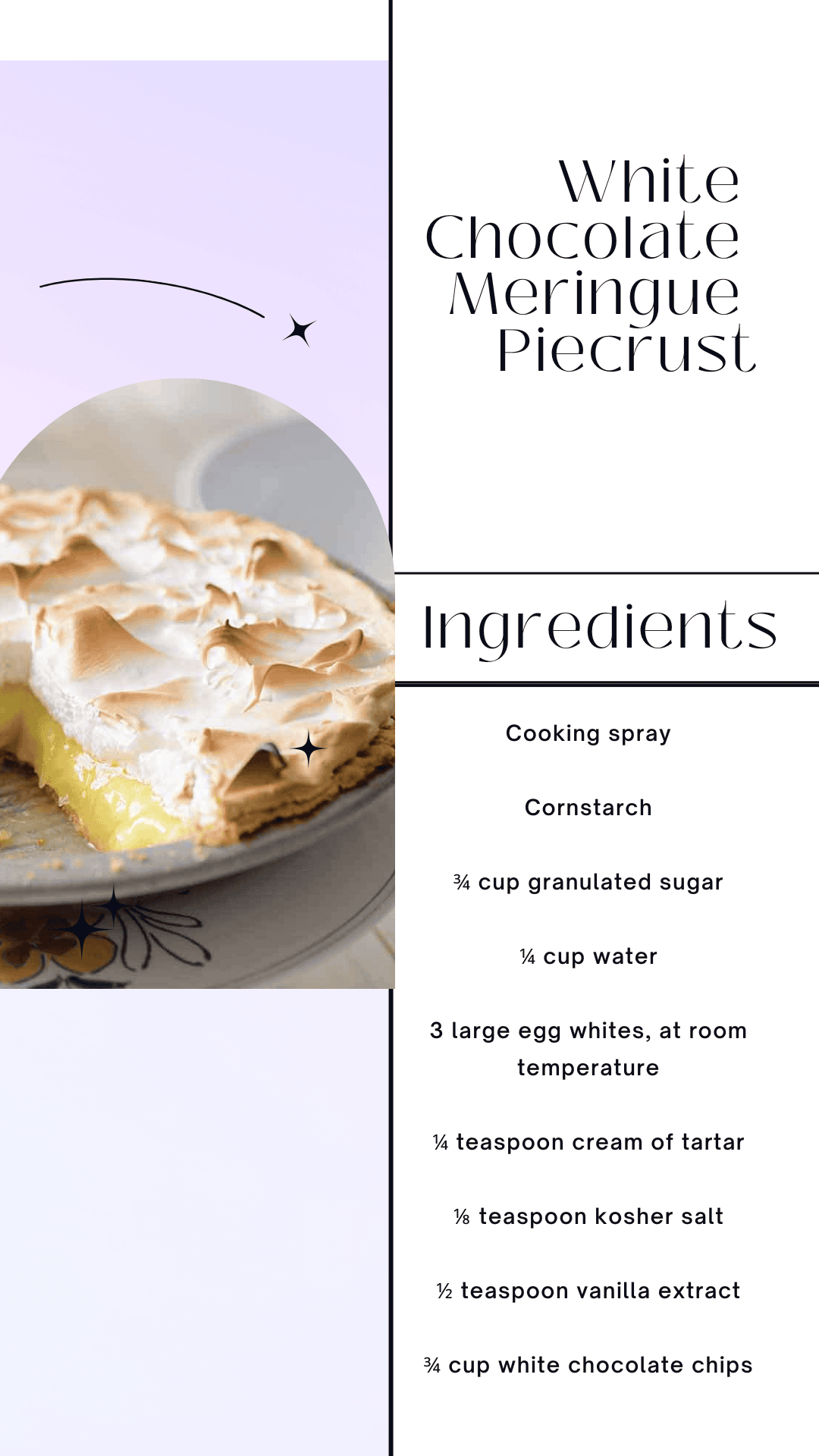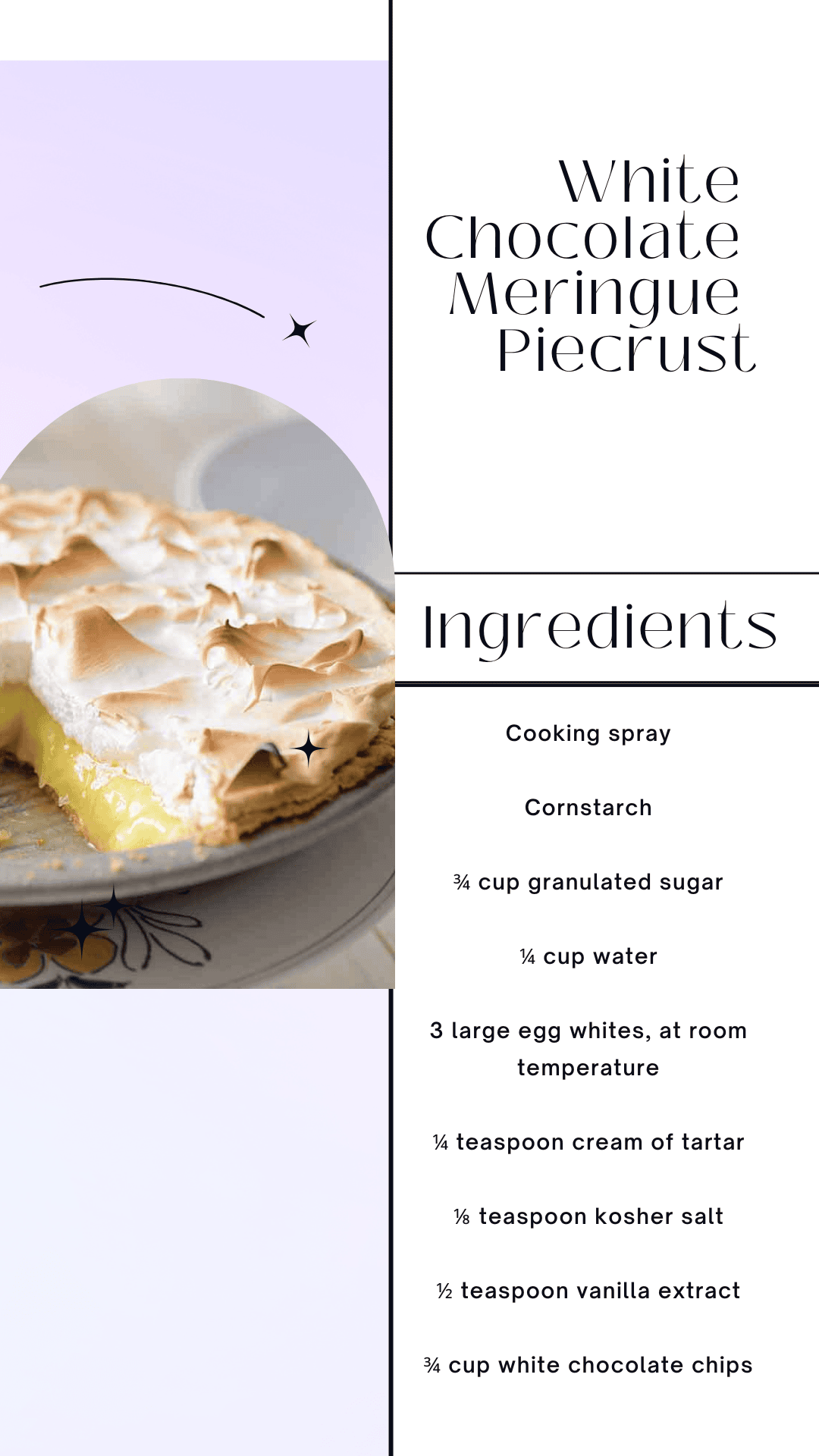 Directions
Step 1.
Preheat the oven to 200°F and place the rack in the bottom third position. Line the bottom of a 9-inch deep-dish pie plate with parchment paper and lightly oil it with cooking spray. Set aside a pie plate that has been generously dusted with cornflour.
In a small saucepan, combine sugar and 1/4 cup water. Cook, stirring periodically, over medium-low heat until sugar is dissolved and syrup registers 240°F on an instant-read thermometer, 10 to 14 minutes.
Step 2.
Meanwhile, when the syrup reaches about 225°F, whip egg whites on medium speed with a stand mixer fitted with the whisk attachment until frothy, about 30 seconds. Add the cream of tartar and salt and beat for 1 to 2 minutes, or until soft peaks form.
Step 3.
With the mixer on medium speed, slowly drizzle hot sugar syrup into the beaten egg white mixture. Continue beating for 3 to 5 minutes, or until the meringue is glossy and forms stiff peaks and the outside of the mixer bowl has cooled significantly.
Reduce the mixer speed to low and whip in the vanilla extract until incorporated.
Read more:-
Step 4.
3 1/2 cups meringue, placed in a large (approximately 18-inch) piping bag fitted with a 1/2-inch closed star piping tip (such as Ateco 854). Pipe a tight spiral design in the bottom and up sides of a prepared pie plate, beginning in the centre and going outward, then up the edges of the pie plate, making sure there are no gaps.
If desired, pipe a decorative edge around the top of the pie plate, resting on the lip. Place the leftover meringue (approximately 3/4 cup) in a piping bag and pipe into little kisses on a small baking sheet lined with parchment paper.
Step 5.
Bake the crust and kisses on the lowest third rack of a preheated oven for 2 hours to 2 hours and 30 minutes, or until dry and no longer sticky. Turn off the oven and leave the meringues to cool completely in it for at least 4 hours or up to 1 day (24 hours). Meringue kisses should be saved for garnish or another usage.
Step 6.
In a small microwavable bowl, combine white chocolate chips. Microwave on high for 1 to 2 minutes, or until smooth and melted, stirring every 20 seconds.
Brush melted chocolate evenly across the bottom and sides of the piecrust, leaving the top edge exposed. Allow chocolate to harden at room temperature for about 30 minutes. Use a torch to lightly sear the top edge of the dough just before filling the pie. Fill piecrust with filling; chill until set.